Leaf Removal and Gutter Cleaning
Leaf removal is essential for keeping a neat and healthy lawn. Leaves remaining on the grass restrict water, nutrients, sunlight and growth. Leaves that are left on your lawn all winter can cause a variety of diseases and will result in dead spots once the grass begins to grow in the spring.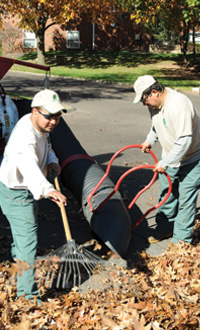 Leaf Removal
Dos Amigos offers complete leaf removal services and gutter cleaning.  Our crews use high powered blowers to move the leaves into wooded areas or the leaves can be vacuumed on to our vacuum trucks.  After removing the leaves with our vacuum trucks, Dos Amigos will dispose of them at a recycling facility.  Our process is efficient and leaves your lawn looking great for the holidays and for winter! We do leaf removal services for residential, farm and commercial properties. Call us today for an estimate.
Gutter Cleaning
We have over 10+ years of gutter cleaning experience.  Our crew will make sure your gutters and down spouts are clear and clean so when the rain comes, the water will not back up in your gutters and damage your home. We can also install gutter guards so you have worry-free gutters.